4 min read
How Digitization Can Get More Workers Into Apprenticeships and Back on the Job
Merit Feb 10, 2021 8:37:27 PM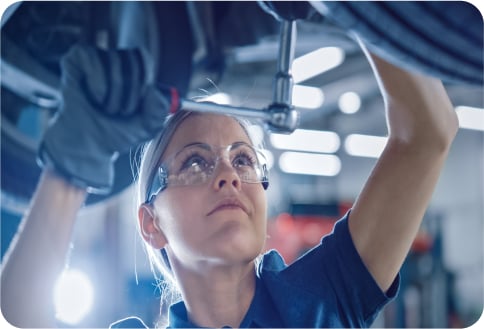 Apprenticeships can be the key to getting people back to work faster, even in times of higher unemployment. But there's a critical need to improve the process of connecting people with the right programs that will advance their careers and align them with the evolving job market.
With the right technology, states can improve existing programs, help bring more apprenticeships to market, and drive public interest in those opportunities.
How states, employers, and workers benefit from apprenticeships
State workforce development agencies are working hard to connect their unemployed constituents with jobs (in November 2020, there were 6.5 million job openings nationwide). But some industries have been hit harder than others by the COVID-driven recession. Employment experts say apprenticeships can be a pathway to get many people back into the workforce while acquiring the skills that employers need.
Businesses benefit from apprenticeships because they can train workers to industry and company standards, which can be tremendously valuable. Every $1 that employers invest in apprenticeship programs brings them an average of $1.47 in returns.
In a Merit webinar on rebuilding the workforce after COVID-19, Matt Austin, general counsel and director of education of Apprenti, an IT-based apprenticeship program, weighed in on the benefits employers get from investing in apprenticeship programs. He said:
"Apprenticeship is all about a progressive scale of wages…. The whole idea is to provide labor protections to the apprentice so that they're not treated as a cheap source of low, skilled labor. But ... it really is an opportunity to develop talent from the ground floor into a fully qualified worker. The sort of discount you get in paying an apprentice less than you would pay a fully qualified worker is a reflection of the fact that you are also investing in their training and that you also have other workers that are invested in mentoring that apprentice."
Employers report higher retention rates among workers from apprenticeship programs. This, and the factors mentioned above, could explain why 97% of businesses with apprenticeship programs would recommend them to other businesses, according to the U.S Department of Labor (DOL). Currently, 150,000 businesses have apprenticeship programs, including Ford Motor Company, UPS, and CVS/Caremark Pharmacy.
Workers meanwhile benefit from apprenticeships because they get paid to learn in-demand skills, removing the economic barriers posed by traditional schooling and unpaid internships.
Apprenticeships can also help get workers out of low-wage jobs. The average starting wage during apprenticeships is $15/hour, and the average yearly income is $70,000 for most workers who complete an apprenticeship. Completing an apprenticeship also holds a strong promise of continued employment: The DOL found that 94% of workers are employed six months after completing their apprenticeship.
Furthermore, the federal government and many states are working to increase apprenticeship enrollment among underrepresented populations, including women and minorities, to ensure they also have access to these higher-paying jobs.
Although the pandemic has created challenges for apprenticeships, many programs have pivoted to provide training online. But more can be done to connect candidates with apprenticeships.
Merit's survey on apprenticeships
Merit surveyed 1,200 people in Iowa, Kansas, Nebraska, and Missouri in November and December 2020 to see what they think of apprenticeships. The answers reveal that many people aren't aware of the value apprenticeships offer.
When asked whether they'd ever considered enrolling in an apprenticeship program, of the 1,200 people surveyed, 10.9% said they'd considered an apprenticeship program and were planning to enroll, 10% had already completed an apprenticeship program, and 4.2% were currently enrolled in an apprenticeship program.
Meanwhile, 62.5% said they had not considered an apprenticeship program at all, and 9.1% had considered an apprenticeship program but decided against it.
For those who didn't consider an apprenticeship and those who did consider one but decided against it, 39.4% said they weren't interested, 31.1% said it wasn't an option for their career path, and 24.1% said they weren't aware of the option to do one.
Respondents who said they didn't consider or decided against an apprenticeship program said they'd be interested in an apprenticeship* if:
It led to a better career (47.6% of respondents)
It led to a more satisfying career (35.6% of respondents)
It led to a deeper and broader knowledge of my industry (32.01% of respondents)
*Multiple response question; percentages do not equal 100%
What current and former apprentices think of apprenticeship programs
Of the respondents who completed an apprenticeship program (10%) or are currently enrolled in one (4.2%), the top 3 perceptions of apprenticeships are:
They're an efficient way to train for a career
They can help you earn more money
They can help you get a job quickly
Respondents who are deciding on a career
The 2nd highest group of respondents ("mid-career" respondents were No. 1) in Merit's survey was "considering career options/deciding on career" (18.8%). What do people who are deciding on a career think of apprenticeship programs?
48% said they did not consider an apprenticeship
18.2% did consider an apprenticeship and were planning to enroll
16.9% had completed an apprenticeship
10.7% had considered the option but decided against it
And 4.9% said they were currently enrolled in an apprenticeship program
Breaking through barriers of perception and implementation
There's a lot of work to do to help businesses create apprenticeship programs and connect with more candidates. A January 2021 Brookings Institute report covered common misconceptions of apprenticeship programs, including:
Businesses think the programs are only an option for trades and require a labor union for registration. But that's not the case. The DOL says apprenticeships span all industries, and sponsors include "employers, labor organizations, and joint labor-management organizations."
Among the general public, many people see apprenticeships as having a lower value than a standard college degree, although apprenticeships can lead to a degree.
Fortunately, there are ways for states to better support the creation of apprenticeship programs to help employers recruit, acquire, and retain skilled workers, while giving workers a clearer look at how apprenticeships could benefit them.
Digitization can improve states' apprenticeship programs
How can states help more businesses establish beneficial apprenticeship programs and connect them with the right candidates? Workforce agencies are a driving force in this process, but digitization can revolutionize the space, giving clearer visibility into regional needs so stakeholders can create more effective strategies.
Merit's verified identity technology offers a way to compile crucial data points to show the gaps between employers' needs and labor market shortages, and highlight equity disparities so they can be addressed. This information can also be used to help shape higher education curriculum and create targeted apprenticeship programs.
Meanwhile, states can give out-of-work constituents a clearer understanding of how an apprenticeship could serve them. States can use a platform like Merit to match people with relevant opportunities, including apprenticeships and ways to acquire stackable credentials, showing them a pathway to higher wages and a better career.
Verified identity technology can further capture workers' skills and competencies earned during apprenticeships, streamline youth/pre-apprenticeships with registered apprenticeships, and give apprentices easier access to wraparound services and benefits to ensure they are successful.
Modernizing apprenticeship programs isn't a new topic. But technology is evolving to make it easier for states to get people back to work faster, and keep the workforce agile enough to meet the ever-changing demands of the 21st century.
Methodology: Merit surveyed 1,200 people in Iowa, Kansas, Missouri, and Nebraska (FEMA Region 7) using the Pollfish online survey platform November–December 2020 to gauge general perceptions and use of apprenticeship programs.
Get the latest news with Merit's monthly newsletters