4 min read
Horizons Annual Summit: Session Recap
Dani Esterline Jul 6, 2023 9:06:55 AM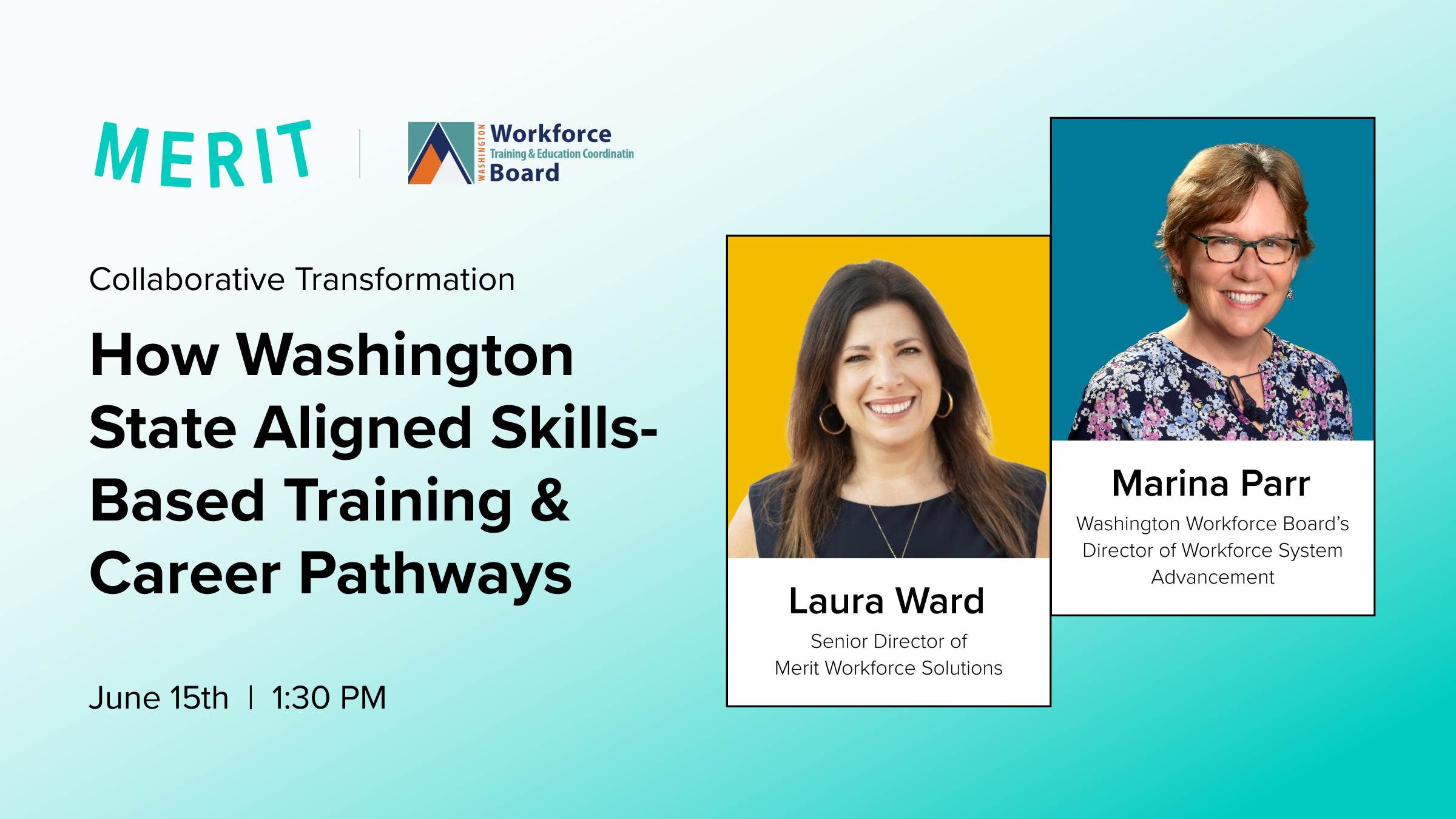 The workforce and education advancement organization Jobs for the Future (JFF,) held its Horizons Annual Summit on June 14th and 15th in New Orleans, LA. Recently, JFF announced its new North Star Goal with a powerful objective: the organization aims for 75 million people facing systemic barriers to advancement to work in quality jobs over the next ten years. Currently, less than half of employed workers in the nation work in quality jobs.
Merit is a contributing supporter for Jobs for the Future and was a proud sponsor of the summit. The theme of this year's meeting: Without Limits — and the message resonated throughout the entire conference. Sessions illuminated several inspiring messages: breaking systemic barriers to empower the workforce, creating and guiding young people to non-traditional career pathways, and much more.
Download the full report of Washington State's LER Initiative
We were excited to host a session highlighting our cross-sector partners in Washington State, and how they are handling workforce advancement proactively.
The state's current workforce initiatives involve:
Rallying to tackle key workforce advancement challenges
Providing access to meaningful employment opportunities
Forging new community partnerships for shared success
Washington is one of seven states taking part in the second phase of the National Governors Association Skills-Driven State community of practice. Washington's Workforce Board's Director of Workforce System Advancement, Marina Parr, kicked off the session by expanding on the state's journey so far by building true meaningful pathways to employment, credential transparency, and lasting partnership across the state.
Common Workforce Challenges
Job seekers across the nation are looking for work systems that align with their unique skill set. That's exactly why states like Washington are partnering with platforms to fill gaps in retaining and recruiting talent pipelines.
"75 percent of new jobs insist on a bachelor's degree, while only 40 percent of potential applicants have one."
The statistic suggests that workforce and education systems might have challenges to address when it comes to retaining and recruiting talent pipelines. When the audience was asked the question "What's your organization's biggest challenge within talent pipelines?" answers included statements like "budget constraints," "lack of interdepartmental understanding," and "getting past the mindset of a college degree being the only pathway for success."
Washington State Workforce Journey
It turns out that these challenges are not inherently unique, as the Washington State Workforce Board faced similar hurdles when retaining talent pipelines for its three major programs: Learning & Employment Record (LER) implementation, an apprenticeship program for Certified Nursing Assistants (CNAs) to Licensed Practical Nurses (LPN), and Common Intake.
These programs – and workforce advancement in general – have one thing in common: verifying credentials that show job seekers skill sets to employers. Marina described credential transparency as a "list of ingredients." For example, someone might say they have a degree in English, but what's really inside that degree? Does that person have a likeness towards writing for animal lovers? Or does that person prefer writing novels about gardening? Sometimes it's both.
However credential transparency isn't always a walk in the park – historically, the process requires extensive paperwork, time, and planning. Marina explained that Washington State Workforce partnered with Merit and its digital credential platform to better support, retain, and connect local talent with meaningful employment opportunities. She also shared some pro-tips to help a more efficient workforce advancement process.
Marina Parr's Workforce Advancement Pro-Tips:
1. Start small then build bigger
The process for Washington's LERs wasn't a day or week long journey. Start with small wins and then move on to larger initiatives. When stakeholders across the board see the potential of building validity and trust in credential transparency, meaningful impact occurs later on.
2. Work with your state's IT team
When implementing new technology, it's crucial for your state's IT department to be on board and in the know with new platforms. This can help avoid bottlenecks in initiatives, and ensure agencies are building a realistic and scalable solution.
3. Convene your "credential communities" to get stakeholder buy-in
Find the stakeholders in your workforce community: training providers, postsecondary education, K-12, etc, and convene with them to buy into the initiative. There's power in cross-organizational support.
4. Keep learners at the center
It was important for Washington to make sure that anyone using the Merit digital wallet and LER system had agency and access to "show the skills that they want to show to employers." The sentiment was echoed by key partners in the room like Providence Health and GSI.
Meaningful Technology
There are many intricacies and elements for workforce ecosystems: training providers, postsecondary training and education, K-12, state workforce systems, local workforce development boards, state licensing boards, employers, and more.
All of these elements require agencies to utilize technology to empower the workforce. Agencies like Washington State Workforce Board used the Merit platform to:
Fill gaps in training, education, and more
Embrace purpose-built technology
Facilitate autonomy
Build trusted relationships
Make data-driven decisions
Create accessible pathways
Many times, technology for workforce and education advancement is served "pre-packaged." With Merit technology, our team of dedicated experts listen to stakeholders with open ears and eyes, and a genuine willingness to support each agency's unique needs and desires for systems.
"Workforce systems are complex by design, and if we can use technology to make it easier for people to navigate these complexities, that's a great thing."
—

Laura Ward, Senior Director of Merit Workforce Solutions
The Power of Collaboration
Merit was lucky enough to partner with like-minded mission-driven leaders, including: Greater Spokane Inc (GSI), Washington Student Achievement Council (WSAC), Washington State University Extension (WSU-E), Washington Training and Education Coordinating Board (WA-WTB), Eastern Washington University (EWU), Providence Healthcare, and many other education, workforce, and training leaders for the LER initiative.
Eastern Washington University has now launched its Summer Bridge Program utilizing Merit's digital wallet to build LERs, and established Merit's WorkNow solution as a direct support line for its workforce advancement initiatives and reaching its North Star Goal .
The power of this community collective approach will support a 70% statewide post-secondary attainment goal using LER's and help support local talent pipelines, identify job seekers' skills, and create lasting partnerships. With partnership and community connection, Washington is truly "Without Limits."
Download the full report of Washington State's LER Initiative