3 min read
Dear Commercial Storm Chasers, Please Read Into Thin Air
Merit Jun 13, 2022 12:13:46 PM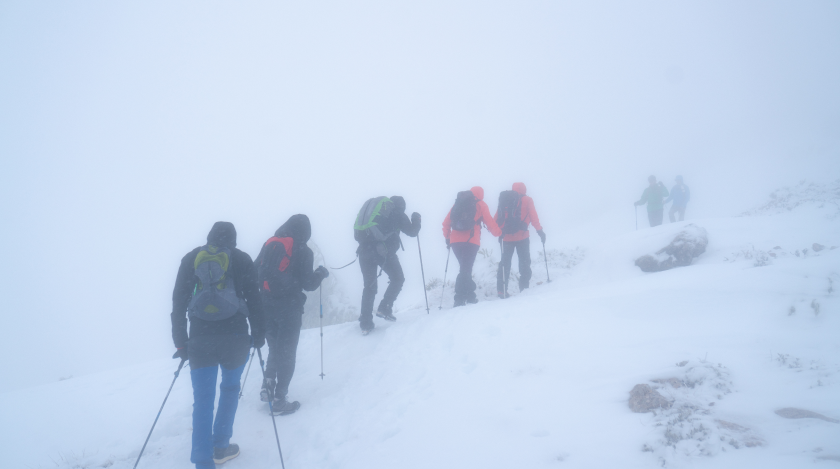 This short read shares:
Chasing can slow emergency responders

Safety may take a back seat in disaster tourism

CERT- a great alternative to profiting from disasters
The best $11.89 you'll spend on Amazon
Into Thin Air is Jon Krakauer's first-hand account of the deadly 1996 Everest disaster that claimed the lives of eight climbers. He described the final ascent:
"The traffic jam at the ropes grew with each arriving climber, so those at the rear of the scrum fell behind. Some were climbing in a peculiar style, like slices in a bread loaf, one behind the other, so it was nearly impossible to pass them. The veteran Himalayan guides keep moving upward, ushering a gaggle of relatively inexperienced amateurs into an apparent death trap."
This is eerily reminiscent of Meteorologist Matthew Cappucci's Mobs are Ruining Storm Chasing:
"In the 1970s and '80s, there was a handful of chasers - generally trained atmospheric scientists who understood what they were dealing with. The past week has been eye-opening. I've encountered:
Chase vehicles parked perpendicular to roads blocking major intersections

Traffic jams 200 cars deep

Chasers parking on/in the road to take pictures, blocking traffic

Chasers driving on the wrong side of the road
Like Everest, storm-prolific areas in the Midwest are experiencing the effects of "guides" bringing paying customers into life-threatening situations.
$65K to stand on top of the world
Himilayan guides Rob Hall and Scott Fischer were Marvel-comic level mountaineering legends. Hall summited the highest peak on seven continents in seven months and Everest six times.
Fischer climbed Everest without supplemental oxygen, and K2 with one arm taped to his chest after tearing his rotator cuff when he fell into a crevasse.
Hall had already led expeditions to the roof of the world, but this was Scott's first year with a large group. It was critical for both to get clients to the top so they could fill their permit rosters the following year. There was pressure to deliver, and this made it harder to make safe climbing the primary focus.
"Our 2023 "Tornado Season Tour" is already sold out!"
For $4,000 a seat, disasters tour guides promise:
"See it. Feel it. We'll get you there. Experience hail. Experience lightening. Experience tornadoes."
All the websites say, "Safety is our priority," but like their Himilayan counterparts, if guides can't "get you there," tourists will find someone who will.
Close-up violent storm footage earns millions of "clicks," which translate into significant paychecks. As competition grows, guides may push the boundaries of what is safe.
"It was a superfluity of carnage."
Jon Krakauer
On May 10, Hall and Fischer agreed to fix ropes needed by the climbers. This didn't happen and teams froze, depleted oxygen, and lost strength in a Death Zone bottleneck. Leaders had categorically insisted clients would have to turn around and descend at 1 PM regardless of where they were on the mountain, but neither enforced the order that day. Had they done so, few paying climbers would have reached the top.
In hindsight, this was a fatal failure. Hall and Fischer and six of their team members perished because neither guide wanted to tell clients they had spent $65,000 to "almost" summit Everest. Profit took precedence over safety and a storm trapped the climbers as night fell.
Similar market dynamics may contribute to storm-chasing fatalities.
In 2013 chasers filming for the Discovery Channel were killed when a tornado shifted direction. Later, four others were involved in a horrific accident as their cars collided. Four storm chasers have died in 2022, including a woman whose car was rear-ended by an 18-wheel trailer when she stopped to avoid downed powerlines.
"The point of climbing is self-reliance, taking responsibility for your own actions." Jon Krakauer
After his experience on Everest, writer Jon Krakauer wrote about the corruption of mountaineering by commercialization. Instead of calling on governments to enforce reforms, he encouraged climbers to make better personal choices and to avoid paid expeditions.
Matthew Cappucci concluded his insightful piece about commercialized storm chasing:
"The chase community has been incredibly lucky. On its current track, it's a ticking time bomb. With big profits on the line, the dangerous behavior will only get worse. Illegal driving won't be policed by law enforcement; they're busy during severe weather. And there's no real way to practically limit the number of storm chasers or tourists that venture out."
CERT - rescue instead of revenue
There is a way to limit dangerous chasing inspired by Krakauer's mountaineering version. People can take responsibility to stay off the roads so responders can reach victims, those trying to reach safety can escape, and legitimate scientists can gather life-saving data. Once the storms are over, former chasers could race as volunteers to be a part of the rescue and recovery.
Beginners can join the 400K registered "spotters" by enrolling in basic courses and learning:
Basics of thunderstorm development

Fundamentals of storm structure

Identifying potential severe weather features

How to report useful information to the National Weather Service

Basic severe weather safety
Many will consider NWS classes rudimentary. They could join a Community Emergency Response Team (CERT) and assist emergency agencies.
Conduct light search and rescue

Administer CPR and basic first-aid

Direct traffic or support supply transportation

Staff survivor shelters
Storms, like the high-altitude peaks, can be exciting and breathtakingly beautiful but making money from taking people into dangerous situations is difficult to justify. CERT activities are not lucrative and haven't inspired a New York Times bestseller. They promote healing from disasters instead of profiting from them.