3 min read
3 Preparedness Templates Emergency Managers Need Now
Merit Jan 11, 2022 10:12:05 AM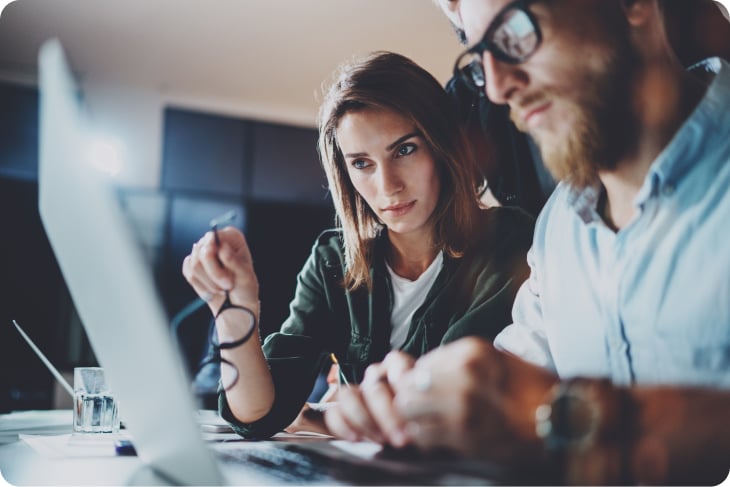 Everyone thinks your crew will save them…right now
It's 1 AM, and you're still awake. Again. Nobody was lost in the hurricane, but you want to feel prepared, not lucky. You roll over and wonder what to do about:
Hard-to-reach, vulnerable families with no crisis plan

People who don't know how to get help

Contractors who have to wait for paperwork before helping
Too many think your crews will rescue them immediately, and state agencies will rebuild their homes quickly. Karen Baker is a former senior advisor to the Governor of California's Office of Emergency Services. She discussed this common misunderstanding during Merit's latest digital event, Disaster Preparedness: It's Never Too Soon or Too Late to Prepare:
"We had sessions during which the emergency manager explained their role and what the government can do for communities and not do. That was a real eye-opener for some of the nonprofits who had assumed that in a disaster, emergency services agencies would be able to meet all their needs. And they realized that's not the case."
What if you're too busy putting out fires to plan?
Preparing people to effectively respond to disasters is the key to limiting the loss of life and property. But how do you get busy people involved? Developing a plan for state, county, or neighborhood education takes time and resources.
An adjustable blueprint for your community
Karen Baker has good news for emergency managers. You don't have to reinvent the community education wheel.
"I encourage you to go to listoscalifornia.org and click on the Impact button. There is a 250-page report that includes a blueprint of how you do this at every level. It's called a people-centered movement to build disaster resilience. I encourage you to look at that report that includes every key decision made. What were the budgets, the impacts, the strategies? We had to look at everything dealing with communication methodologies to reach people. There are all kinds of assets on that website that you can steal, borrow, copy, edit for times of disaster, so please use those resources."
This Listos Impact Report is a step-by-step guide to identifying and locating neighbors who:
Lack technology for accessible communication

Live with disabilities

Experience homelessness

Speak a language not used in your current preparedness literature

Do not know what to do in crisis situations
You will find detailed guidelines for:
Creating a simple emergency preparedness education campaign for each vulnerable group

Finding someone to lead the campaign

Establishing a communication plan for each vulnerable group

Identifying organizations and businesses to sponsor this effort
A directory for community networking
A scalable blueprint for whole-community education is already a huge time and resource saver. Compiling and sharing a directory of local resources with as many neighbors as possible would ensure an even greater level of Preparedness. Baker shared how you can create a similar document by reaching out to local businesses, organizations, and individuals.
"One product we produced is called a disaster directory and it's written in partnership with the emergency managers. All you have to do is ensure that the information is current and then it's accessible in people's hands what they do in times of disaster. You could lose your web connections. We found people really wanted to touch and feel some of the resources."
You can do this on a shoestring
You might object, "California had a 50-million-dollar budget; of course they could afford to educate an entire state!" Not many states or neighborhoods have the resources to create the same program as Listos. Managers can use the Impact and Preparedness reports as guidelines, adjusting them to fit their community's needs and budgets. Every neighborhood can host a meeting of residents and emergency service experts to learn about basic Preparedness. Using California's checklists and timelines ensures that no populations are left out of training. You can do this even on a tight budget.
Getting the contractors on-site as soon as you need them
Disasters can continue to impact neighborhoods when recovery teams are delayed. Former Florida Division of Emergency Management Director, Jarad Moskowitz, talked about his "must-have" Preparedness tool that every manager should set in place before a crisis.
"I'll just give you one on my own. I think having preposition contracts in place for the disaster is something that should be applied everywhere. Because if you have to go to procurement, it delays the ability to respond."
Preposition contracts authorize those providing additional or specialized services to begin working without waiting for a lengthy procurement process.
Digital credentials for whole-community management
Once you have used these templates to educate the community about Preparedness, shared a community resource directory, and established preposition contracts, you can modernize Preparedness even more by moving information from clipboards or slow-moving spreadsheets to integrated digital systems that enable you to:
Issue verified credentials to staff and vendors

Facilitate direct communication

Control disaster site access

Document resource use for maximum reimbursement
Rely on modern Preparedness, not chance
Community Preparedness education blueprints, local resource directories, and pre-disaster contracts will transform your neighbors into response partners. They will speed up your response and recovery. Modernized technology enhances the effectiveness of these planning tools by enabling you to verify the credentials and communicate with all responders, both staff and volunteers.
The complete digital event, Disaster Preparedness: It's Never Too Soon or Too Late to Prepare is available here.
You may also enjoy Hot Showers or Paperwork? Modernizing Your Cost-recovery Process, with more advice from our national expert panel.
Get the latest news with Merit's monthly newsletters